FROM THYSHELF - Walking Along The Sixth
I've been on a reading roll. I've finished three books in the last two weeks plus all my readings at work. Though I still feel that 24 hours is too short a day for reading (I still got tons to read!).
Anyway, this book that I will be reviewing is from Netgalley which is a great site for book bloggers, writers, publishers etc. not only do you get to request ARCs of future bestsellers, but also you get to review them and gain more access to free books.
A bit of a background, I have requested this book months ago but since I still have pending books to read, and I have to read a lot for my work, my ARCs got a little sidetracked. I've already started reading it when I first got it but I had to pend for some serious adult stuff. When I started reading the novel again, I had to start again from the beginning. Anyway, here is what I thought about Avery Hays' The Sixth
Florbela Sarmentos wants to be an artist. But she is caught in the middle of a revolution. Her home country of Portugal is in torment because of their king and Florbela's father is a prisoner for criticizing the Royals. Florbela who have studied in London, traveled to Paris and stayed in La Ruche, a home for the would be famous artist of the 1900s such as Diego Rivera, Amedeo Modigliani, Marc Chagall and was once home of Pablo Picasso. Florbela spents her stay in Paris, rubbing elbows with other artists and collectors in the famed Sixth Arrondissement of Paris, located at the west bank of the Seine. But amidst all the parties and the great artwork surrounding her, Florbela is still hunted by the revolution of her country and she might just be solution to end it.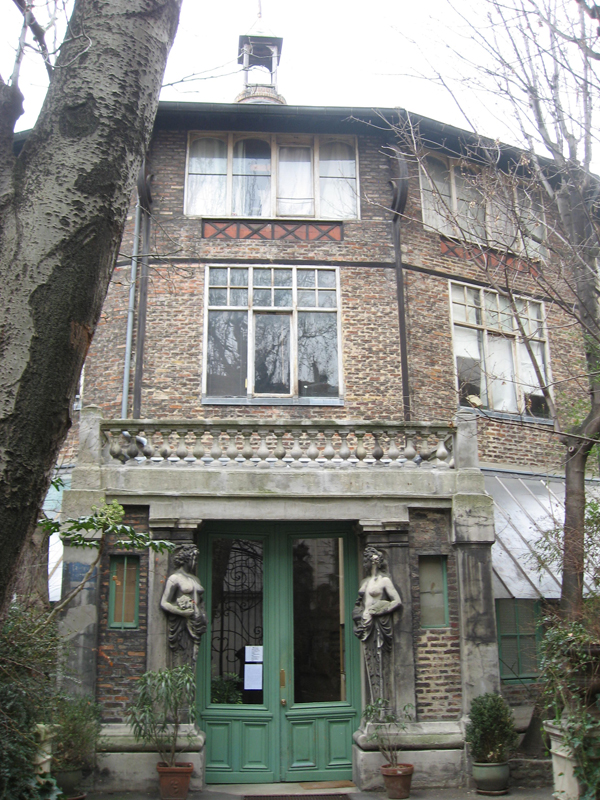 La Ruche
First thing I liked about is the cover. Without having to read something about the book, you know that it's about art. I know that there is a name for the style used in the illustration of the lady in the cover but I am not that familiar with art terms.
Next, the art terms, I was glad that there were art terms used in the book. It made it more realistic. Though most art terms were explained, I feel that there are still terms that a reader not as accustomed to the arts might have a hard time relating to.
One of the best things about this book is that it's use of real people. After all, art is a big part of history and I like how it showed that artists that we only know because we see their names in museums are really normal people who walk, talk, drink and do have fun. I have only heard of Modigliani, Matisse, Picasso, Chagall as names in art books but this novel showed them as human beings.
An area in the Sixth Arrondissement of Paris
One thing I noticed at the end part, though the story is really more about Florbela and her adventures in Paris and how she will save Portugal, there was no mention of what happened to her friends at La Ruche and The Sixth. Since most of the pivotal moments of the story happened there, I would surely like to know what happened to the other people that at some pint were part of her life. It's like after she left and journeyed back to Portugal, Paris was forgotten. I wish there was more story about the people of La Ruche and their parties at The Sixth.
All in all, I had a great time reading the story. It's a mix of art, history, romance and mystery that I am sure most readers will love.
Care to read it and share your thoughts? Post them below or on twitter @iamthebluedevil